OCRA Director Updates Commissioners On HELP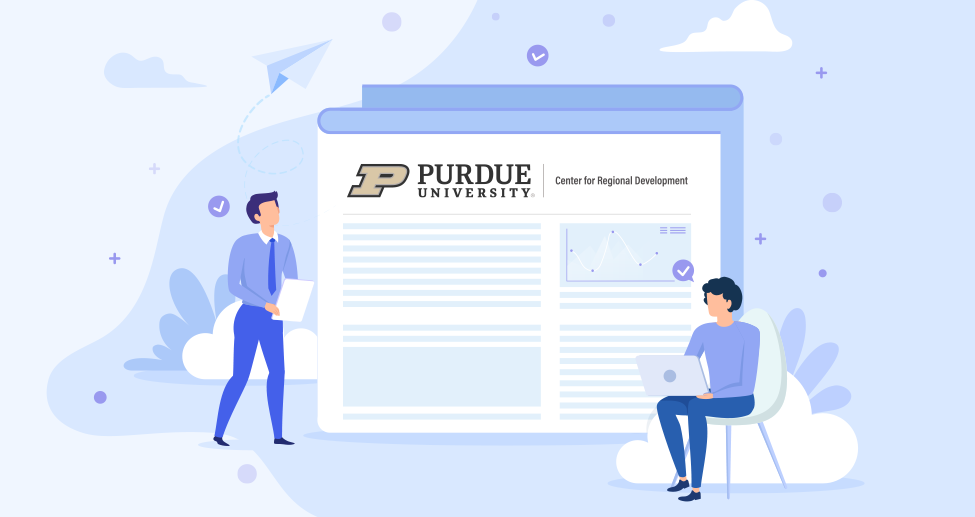 Kosciusko County was awarded a first-round Hoosier Enduring Legacy Program (HELP) grant in December through the Office of Community and Rural Affairs (OCRA).
On Tuesday, OCRA Executive Director Denny Spinner, on behalf of Indiana Lt. Gov. Suzanne Crouch, updated the county commissioners on the HELP. He said the HELP is part of OCRA's efforts to reach out to communities and help them in various ways.
In 2011, OCRA launched the Stellar program to help communities recover from an economic downturn and transform their communities, Spinner said. Stellar also provided a "boost" to rural Indiana "at the right time."
Today, rural Indiana communities face another challenge and that is recovering from the effects of a worldwide pandemic.
"Under the leadership of Lt. Gov. Crouch, OCRA was challenged to create a new program to meet those needs," Spinner said. "When we heard of the (American Rescue Plan Act) funds that were coming out and that were there, we, on our first day after that, as an OCRA staff, surveyed local government leaders like the commissioners, the mayors and town boards across the state. And we asked them, 'What's OCRA's role now? What can we do for you now?' And local leaders – faced with properly and effectively utilizing those funds from the American Rescue Plan – were seeking guidance from OCRA to create legacy programs to stay in communities for years to come."
HELP was created as an opportunity to help promote stability in Indiana communities and make them more resilient to economic downturn in the future, he said.
"HELP melds the pillars of what OCRA's Stellar initiative was. It's a program that capitalizes on the success of previous efforts and addresses current environment needs of Hoosier communities. The new program supports cities, towns and counties by building capacity, by creating peer network between communities and participants in the program. We develop a strategic investment plan and providing access to set-aside funding to implement those projects in the investment plan," Spinner said.
HELP is a 52-week process culminating in that strategic investment plan. "And through the program, OCRA is engaging with some tremendous resources here in the state of Indiana to help us in this process," he said.
He listed those resources as the Purdue Center for Regional Development, the Indiana University Center for Rural Engagement, Ball State University Indiana Communities Institute and the Ivy Tech Community College.
As part of the process, there are four main pathways, which are what the ARPA funds can be used for, he said: advancing economic activity, enhancing the quality of life, promoting community wellness and strengthening the local economy.
Spinner told the Commissioners, "We know that you are working already with the Northeast Region as part of the Ready program, and there is a connection between Ready and HELP. We believe that being designated as a HELP community will help strengthen your opportunity to participate in Ready, not only in this round but I believe it's going to be a program we're going to see have a long-lasting effect. There will be other opportunities for Ready to happen and affect Kosciusko County and HELP will make it ready."
He said the HELP process supports the county by giving it tools to critically think about the county's previous plans, look at the community through an equity lens through resources the state has and engage a diverse and creative community in this engagement.
"It will give confidence, I think, to fully leverage the coronavirus relief funds to meet your needs in your communities. And in the long term, we believe that participation will empower your community to establish systems that encourage success, not only through this process, but processes in the future as you take on similar challenges in your community," Spinner said.
After Kosciusko County was chosen as a HELP recipient, Spinner said the county hired a community coordinator to assist in facilitating the program.
"That was one of the things we heard loud and clear: How to build capacity, having somebody that can help guide this process. You all have other jobs, you all keep busy with other things. Having someone who is focused on this effort and working on that is something that we heard loud and clear as we developed this program. And we're pleased to be working with Amy Roe … and helping us roll out this program," Spinner said.
As OCRA looked at the HELP applicants, he said there were some things that made Kosciusko County stand out, which was one reason the county was selected to participate.
"One of those was the desire to create a lasting impact. That's part of that acronym, 'legacy.' We believe this is a chance to maybe do something with funds … the opportunity to create legacy programs, legacy projects is something that were very much a part of this and that was clear in your application that's what you wanted to do for your county," he said.
Part of the county's application was also to use the matching $1 million grant to help the smaller communities in the county move forward.
"Again, this is an opportunity for the community to take full advantage of the Rescue Plan and plan for those dollars appropriately to establish legacy, to establish ownership and to establish sustainability of those programs. So this is a very exciting time for us," Spinner stated.
He thanked the county for its participation and encouraged the county in what it's doing.
"We're into this about three months and you're leading the way for other communities in Indiana. This is a learning experience for all of us on how to implement this program," he said.
On behalf of Crouch, he congratulated Kosciusko County on its work so far and said he hoped OCRA can help Kosciusko grow and thrive.
Commissioner Cary Groninger thanked Spinner and his team for coming to the meeting Tuesday.
"I've been in a little more active role with the HELP program and when I see it out there, knowing what some of our rural communities were lacking, this was written all over it that this was something that could really help our county, so I'm excited to be a part of the group here and hopefully you're going to see some great projects. Amy (Roe) is doing a great job. Sometimes it's a little like herding cats, but we're making lots of progress," Groninger said.
Collaboration is not easy, Spinner said, but the tools and systems are in place so he thinks some great things will come out of HELP. He said when the county completes projects, the lieutenant governor will be coming to the county to see them.