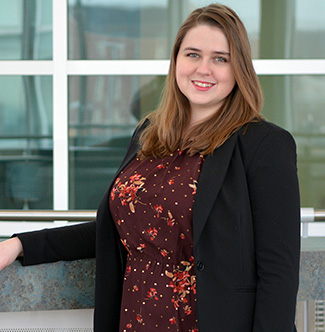 Get to know me
Cheyanne Geideman is an Engagement Specialist at the Purdue Center for Regional Development. She holds a B.S. in Visual Communications Design from Purdue University and an M.A. in International Community Development from Northwest University. During her undergraduate experience, Cheyanne was recognized for her leadership and skills in art and design. During her master's program, Cheyanne focused on the impact of the digital age on communities and conducted research in the Democratic Republic of Congo.
While she first joined the team as the communications and marketing coordinator, she saw through the center how the digital age is creating increasing overlap between communications and community development and has moved into a position as an Engagement Specialist.
Cheyanne has experience working with the faith-based community on development efforts spanning a range of topics, audiences, and locations.
Cheyanne pursues programmatic and research interests at the intersection of communication and community development through topics related to social media, culture, community branding, the digital divide, digital parity, and digital inclusion. She puts these theories into action through working with a variety of audiences, from regions creating digital inclusion plans to small businesses contributing to the local digital economy. Cheyanne is also active in the Extension Disaster Education Network and explores incorporating digital inclusion into disaster education and programming.
Authored news
Digital Equity Solution Sessions
Join us in making history through contributing to Indiana's first-ever Digital Equity Plan! In July and August, Indiana's Digital Equity taskforce is hosting a series of solution sessions to garner…
Digital Equity Takes a Village
The digital equity task force needs help creating a map of digital inclusion assets in Indiana. Specifically, the task force is looking to map any organization or institution that offers…