Application Open for the Digital Marketing Assistance Program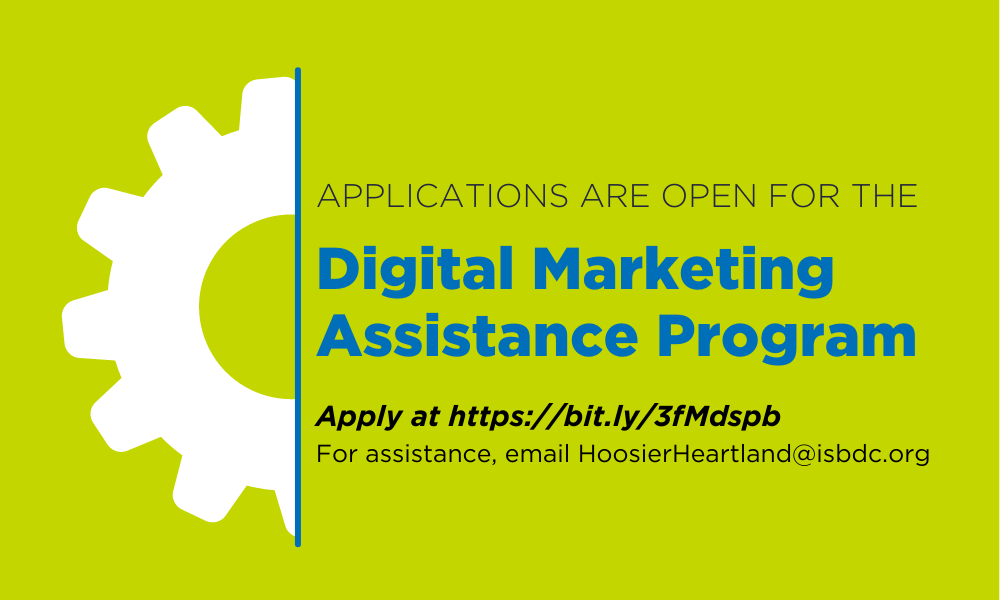 The Hoosier Heartland Indiana Small Business Development Center (SBDC) and our hosts at the Purdue Center for Regional Development (PCRD) are excited to announce the opening of our Digital Marketing Assistance Program (DMAP). This is a cost share program, where we match our client's investment in digital marketing infrastructure two dollars for every one dollar they invest. This cuts the cost of the work provided by professional vendors by up to two-thirds. An easy project example is for a $10,000 project to upgrade a website: the client will invest $3,333.33 and HHISBDC will provide $6.666.67.
These funds are supplied to us via the Small Business Administration and the CARES Act to provide direct assistance to businesses who were negatively impacted by the pandemic. This is intended to help a business recover and advance in the changed marketplace. Digital marketing was an evolving topic prior to COVID-19, and interest increased during the unnatural economic downturn as customers accelerated the use of online methods to source products and services for purchase to minimize physical contact with others. However, many other benefits were uncovered leading customers and businesses alike to embrace many new practices.
DMAP targets businesses who have moderate to large digital marketing needs as they work in an adjusting and recovering market. DMAP will reduce the burden of price for clients who seek to make major improvements in their online presence. This program was developed in-house and will be administrated by the Hoosier Heartland Indiana SBDC team. The vendors who provide the work are also local to the region, allowing for a multitude of businesses to benefit from this program.
The Hoosier Heartland Indiana SBDC serves one of ten regions that cover the state of Indiana. Our team includes business advisors that stand ready to assist any small business in the region with their small business needs, including digital marketing, traditional marketing basics, and more. See the full list of services available through the Indiana SBDC on their website. Small businesses can reach out to the team any time to take advantage of any of our usual services.
The DMAP program is limited to business classified as small by the SBA in the Hoosier Heartland region. Typically, that definition results in businesses that have less than 500 employees. To see which region in the state your business operates, check out the map on the Indiana SBDC website: https://isbdc.org/locations/. Additional frequently asked questions related to the program are available below. Businesses who meet the eligibility should apply online through the application portal. If you have questions or need additional help, please contact the Hoosier Heartland Indiana SBDC team at HoosierHeartland@isbdc.org.
Hoosier Heartland ISBDC's (HHISBDC) Digital Marketing Assistance Program (DMAP) FAQ's
Is this a grant? Is the program free?

No. This is a cost-share-match program wherein HHISBDC will contribute $2 for every $1 invested by the client business.

Why does DMAP exist?

The Digital Marketing Assistance Program (DMAP) was created by the HHISBDC to assist small businesses that were negatively impacted by the pandemic by providing resources to help them adjust their practices towards a positive recovery. This is a "recovery and advance" program.

What can the funds be used for?

DMAP is committed to assisting businesses with their digital, web, online, social media, mobile app, and E-commerce marketing activities.

Do participants receive funding directly?

No. The funds are paid to designated vendors who will perform the work on behalf of the business clients.

How does the match work?

If a client has a project that they need for their business, for example a web site redesign that will cost $10,000, the client will invest $3,333.33 and HHISBDC will invest $2 for every dollar invested by the client, or $6,666.67 in this illustration.

What is the least I can pay to participate?

The minimum contribution by a participating client is $1,000. Thus, the smallest project by a participating client will be valued at $3,000.

What is the most that the HHISBDC can contribute?

The maximum amount that HHISBDC may contribute is $10,000 (if properly matched).

My project may cost $20,000. How much will the HHISBDC contribute?

The maximum amount that HHISBDC may contribute is $10,000. However, the client may pay the vendor more to complete the desired project.

Can non-profit entities participate in DMAP?

No. CARES Act funding rules for this program prohibit us from assisting NFP's.

Can I just call the office or e-mail my business advisor to apply?

No. You must complete the online application to apply.

Do I have to be an HHISBDC client to participate?

Yes.

Can I apply for DMAP if I am currently not an HHISBDC client?

Yes. You may apply via the online application. You will be required to become a client after applying. There are no fees required to become an HHISBDC client.

What is the business size criteria for DMAP?

All businesses in the HHISBDC region that fit in the Small Business Administration's definition of "small" may apply. Generally, this includes businesses that have between one and 500 employees.

I am a sole proprietor that was open before November 15, 2019. Can my business qualify?

Yes. Sole proprietors may apply.

I want to start a new business. Can I apply?

No. These funds are to be used only by those who were in business prior to the pandemic.

My business showed a loss in 2019. Do I qualify?

No. Applicants must be able to prove that they had a profitable calendar year in 2019.

I started my business after November 15, 2019. Do I qualify?

No. Businesses that started after the pandemic (February 15, 2020) cannot access this program due to rules provided us by the SBA. HHISBDC is requiring three full months of business activity to participate. Businesses that were open on or before November 15, 2019 may apply. They may be asked to provide evidence of sales and profitability.

My business received PPP and EIDL funds. Can we apply?

Yes. There are no restrictions on businesses that received local, state, or federal assistance.

What do I need to apply? How do I apply?

Businesses are to apply online at the designated link. There are no required uploads in the initial application. If the applicant is invited to the next step, they need to easily prove that they were profitable in CY 2019 (tax return or profit & loss statement) and reveal their gross sales number for CY 2019. All interaction and information supplied to HHISBDC is held in strict confidence.

When will I know if my project is accepted?

The HHISBDC office will contact you by e-mail to arrange a qualifying session with one of our business advisors. After that session, if your business qualifies, we will arrange a meeting with our marketing expert, who will pair your business with one of our participating vendors.

When will the vendors start on my project?

As soon as the vendor is ready and after the vendor receives the client's investment in the project.

May I select my own vendor?

No. Only qualified HHISBDC vendors will perform the work. If the business has prior work performed by a qualified HHISBDC vendor, then we may be able to accommodate the relationship, but we will not guarantee this will be the case.

Where did this money come from?

These funds came to the HHISBDC as an investment by the Small Business Administration via the CARES Act, dedicated to aid the recovery of small businesses that have been negatively impacted by the pandemic.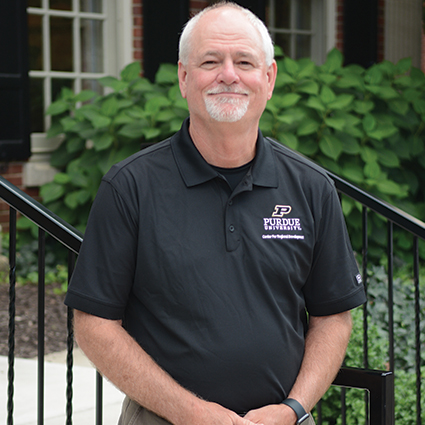 Written by
Monty Henderson
Monty Henderson is the Indiana SBDC Agribusiness Initiative Director.
He transitioned to this position after serving as the Hoosier Heartland Indiana SBDC regional director for four... read more