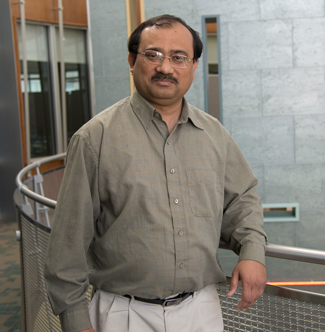 Get to know me
Indraneel Kumar is the Associate Director and Principal Regional Planner at the Purdue Center for Regional Development (PCRD). Indraneel has been at PCRD since its inception in 2005. He focuses on regional demographics, economic and workforce analysis, identification of new sources of data, GIS databases, spatial analysis, and quantitative methods.
He received a bachelor's degree in architecture from Visvesvaraya Regional College of Engineering in Nagpur, India in 1994. During his master's in urban and regional planning from the Center for Environmental Planning and Technology (CEPT University) in Ahmedabad, India, he was the recipient of the Vastushilpa Foundation Award for Excellence (gold medal) for his thesis in 1997. Indraneel earned a second master's degree in community planning with a specialization in environmental planning from the University of Cincinnati, Ohio, graduating with the Professional Promise award in 2003. In 2014, he earned a Ph.D. in civil engineering with a major in transportation and infrastructure systems from the Lyles School of Civil Engineering, Purdue University.
Indraneel has been a member of the American Planning Association and American Institute of Certified Planners since 2006. In his 20 years of professional and applied research experience, Indraneel has worked on comprehensive planning for large metropolitan areas, regions, and counties (districts) in India and the USA, with a concentration on land use, transportation, and regional economic analysis. He has participated in several regional economic development research projects funded by the U.S. Economic Development Administration (EDA); Employment and Training Administration, U.S. Department of Labor (DOL); Office of Economic Adjustment, Department of Defense (DOD); Economic Research Service (ERS), U.S. Department of Agriculture (USDA); Joint Transportation Research Program (JTRP); and Indiana Department of Transportation (INDOT). Other state agencies include the Office of Community and Rural Affairs (OCRA) and the Indiana State Department of Agriculture (ISDA).
He is an adjunct faculty member at the Lyles School of Civil Engineering, Purdue University, since 2018 and participates in teaching graduate courses related to urban and regional economics and transportation systems evaluation. Indraneel has an interdisciplinary research interest in regional economic development and competitiveness, transportation and infrastructure systems, and renewable energy.