Getting To Know Jordan Jicha – The New Hoosier Heartland SBDC Director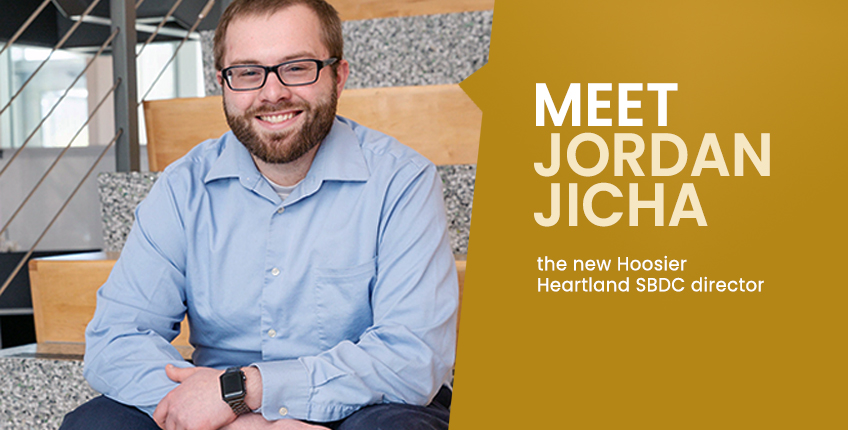 As we introduce Jordan Jicha as the director of the Hoosier Heartland Indiana Small Business Development Center on July 15, he kindly shares his background, motivation, leadership style, and love of sports to help get to know him. He plans to actively integrate himself into the communities he serves and wants to bring his entrepreneurial experience to the Hoosier Heartland region. If you're a sports fan, ask him about the major league baseball players he's met. Or, ask him how one of his first business ventures earned him a trip to the principal's office. Let's welcome Jordan to Indiana, Purdue, and the Hoosier Heartland!
---
What is your background?
Jordan: I was born and raised in a small town in New York called Binghamton and graduated from Binghamton University with a degree in Economics. While in college, I was an intern for our local minor league baseball team, the Binghamton Mets (double-A affiliate of the New York Mets) where I primarily worked in ticket sales. Upon graduation, I was offered the opportunity to be the Director of Ticket Operations, where I was in charge of our ticketing department. After only a few months in that position, I was elevated to the Director of Sales and eventually ended up as the Director of Business Operations.
After a few years went by, I had an interesting opportunity to purchase a local popular deli in Binghamton. I ended up getting a loan to purchase the location, and after only six months expanded to a second location. After a few years of owning these locations, I had an offer to sell my business and decided that the restaurant business was not something I wanted to do long-term. That's what brought me to the Small Business Development Center, where I have been a certified business advisor for the last three years at Binghamton University's Small Business Development Center.
---
What motivated you to apply for the Hoosier Heartland position?
Jordan: I am wildly passionate about assisting small business owners. Over the last three years, I have had the pleasure of assisting over 400 business owners, ranging from start-up companies to those in business for 30 years. Navigating the waters of being a small business owner can be incredibly challenging, and the comfort and guidance we can provide for people is extremely rewarding. As a former business owner myself, I understand the daily struggles of trying to grow your business. The perception of being a business owner tends to be that once you own a business, you have flexibility, freedom and life is "easier" being your own boss.
I believe it is important for people to have a realistic picture of what being a business owner means, and my ability to relate to entrepreneurs has been incredibly helpful. I have made mistakes as a business owner, and my goal is to be able to share that experience and knowledge so that people can make more informed decisions. I have been looking for the opportunity to make an even bigger impact with the Small Business Development Center as a director, and having the opportunity to continue to grow Purdue's strong brand is what made this position the perfect fit for me.
---
How would you describe your leadership style?
Jordan: I always describe my leadership style as a "chameleon" and take pride in my adaptability. Each member of a team needs to be managed differently as each professional has a different work style and goals. If you are managing each individual the same, I do not believe you will be an effective leader. My experience in sales, operations, business ownership and consulting gives me a well-rounded background that I can use to lead a staff and relate to clients.
---
Where do you see the Hoosier Heartland SBDC going under your leadership?
Jordan: The future for Hoosier entrepreneurs is incredibly exciting. My goal is to strengthen the entrepreneurial ecosystem across our 12-county region and build awareness for our center. We always say at the Binghamton Center that the SBDC is the best-kept secret in the country and this is something I hope to rectify in my new region.
My main priority over the next few months is to be very active in the community and get to know the local economic climate. Our center is here to solve the problems of local business owners, and I plan on having conversations to see what assistance we can provide for those locally and build a plan that is very community and client-centric. Another area I am extremely passionate about is bridging the gap between business owners and tools/resources for them to start and grow their businesses. Many entrepreneurs get stuck in the day-to-day rut of running their daily operations, others may not have formal training, and one of my goals for our center is to be known as the go-to resource to help them gain the knowledge and tools that they normally do not have access to. Where else can you get expert business consulting at no cost?
---
What are you looking forward to most about your new position?
Jordan: Although I am going to miss all of the clients I have seen grow over the last three years in Binghamton, I am looking forward to helping a whole new set of entrepreneurs. Seeing the impact we have at the SBDC is what keeps me going on a daily basis. I am also looking forward to working with the staff we currently have in place at the center. Lita, Patrick, and Ruth have been excellent resources for Hoosier entrepreneurs and I am looking forward to being a part of an already strong team.
What I am most excited about, and is a little different for a director compared to an advisor is the strategic planning aspect of being a director. Having those conversations with the community and being able to build a plan for how we can market to our potential clients and build awareness, provide timely and relevant information and resources as well as expand our services.
---
What are your hobbies and what do you like to do in your free time?
Jordan: I am a huge fan of the Los Angeles Rams! I am a season ticket holder for the franchise and between the Super Bowl win and having the chance to come to Purdue, you can say I have had a pretty good start to my year! Growing up in a town with a minor league affiliate of the New York Mets, for better and for worse, I stay loyal to my Mets. I also had the pleasure of growing up to watch the San Antonio Spurs dynasty and have always followed them closely, as I believe their dynasty can be a lesson in teambuilding. Within the sports realm, I host a sports betting podcast and am a fantasy sports nut (I play in over 50 different fantasy sports leagues). I enjoy spending time with my three dogs and cat, my girlfriend and I have recently taken up gardening, I have traveled all around the world, listen to podcasts daily, and am extremely active in the real estate market.
---
What would you like people to know about you that they may find surprising?
Jordan: A few fun facts about me! For my first restaurant acquisition, I was actually a client of the SBDC! I was able to see firsthand the impact that the center can have on a business owner. My first job was when I was 14 years old and I got to be a bat boy for the Binghamton Mets. I have met hundreds of major league baseball players and if you ever get the chance to stop by, I can tell you a few of my favorite stories. I have always said entrepreneurship is in your blood – my first business was when I was in 5th grade, where I partnered with my artist friend. He would draw comic books, and I would come up with the story and sell them to other students. We had plenty of money saved to pay for lunch! In 6th grade, we started a different venture making duct tape wallets, where we made $300 and earned a trip to the principal's office.
---
Do you have anything else you want to add?
Jordan: I'd also like to add a thank you to the Purdue and SBDC staff for giving me the opportunity to be a part of the community, my girlfriend, friends and family for their support, all of my coworkers throughout the years who have made me the professional I am today and specifically my mom. Without her guidance, sacrifice and unwavering love and support, I would not be half of the man I am today.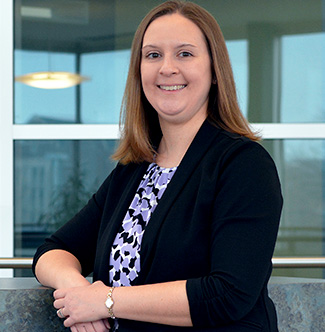 Written by
Jessica Wandless
Jessica Wandless is the Communications and Engagement Manager for the Purdue Center for Regional Development (PCRD). She is the primary contact for all communication efforts... read more