A Look at the Emergency Broadband Benefit Footprint in Indiana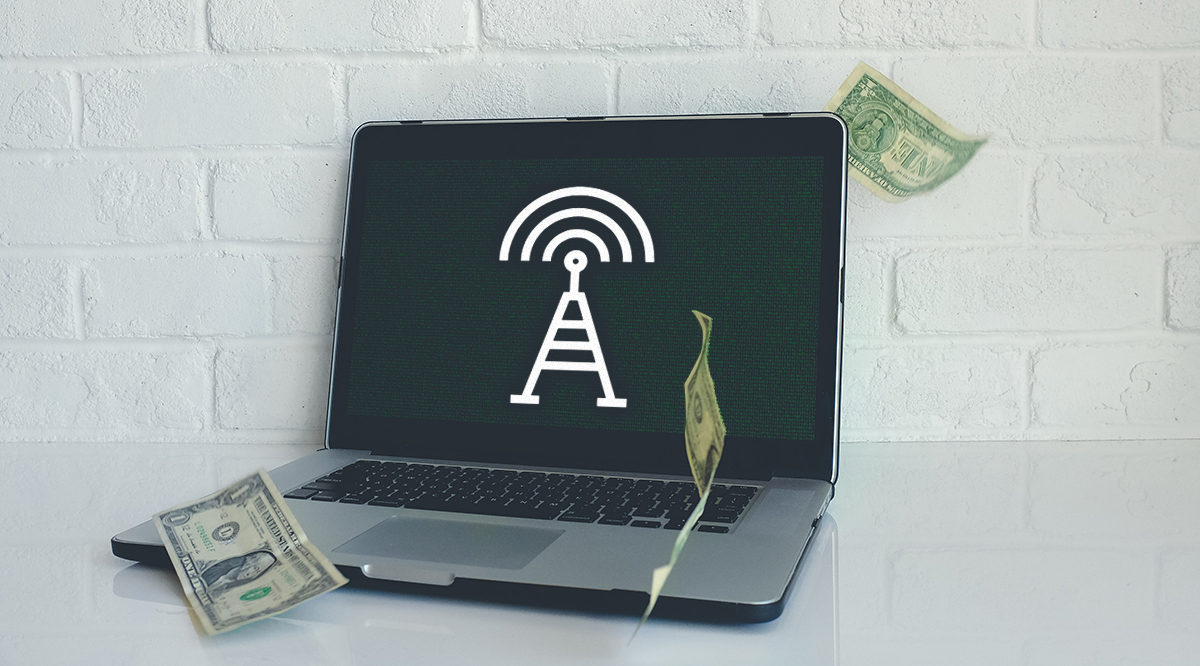 Written by Roberto Gallardo & Benjamin St. Germain.
As part of the federal response to the COVID-19 pandemic, the United States Congress passed a second relief bill in December 2020 that included a program called the Emergency Broadband Benefit (EBB). This program was designed to help low-income families and households afford internet service by providing a discount of up to $50 per month (up to $75 for households in tribal lands) towards their broadband home subscription and a one-time discount of up to $100 to purchase a laptop, desktop, computer, or tablet from participating providers (one device discount per household). Read more about the EBB.
Broadband providers had to apply or let the Federal Communications Commission (FCC) know that they wanted to participate in the EBB if they already were participating in other federal programs like Lifeline. According to the FCC and listed in Table 1, 34 providers in Indiana enrolled for the EBB. However, 17 of the 34 did not appear on the FCC's fixed broadband dataset (in red) probably because they are mobile providers1.

Of these 17, only 12 providers advertised minimum speeds of 50 megabits per second (Mbps) download and 5 megabits per second (Mbps) upload, or 50/5 (in green). The map below shows the areas in the state outside of the EBB Fixed Broadband 50/5 footprint (gray areas) to keep in mind as state agencies deploy Indiana's broadband infrastructure and adoption program.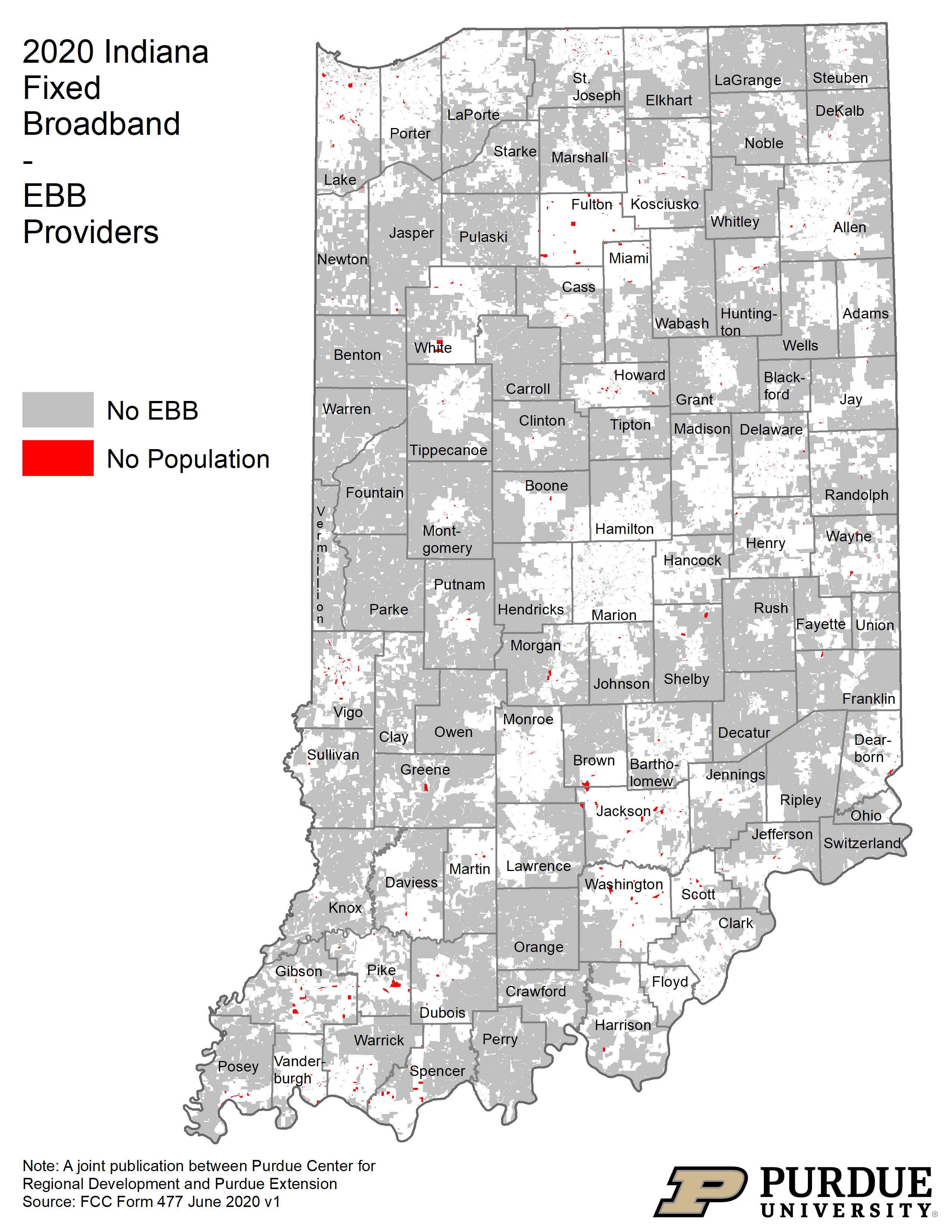 Using this Fixed Broadband EBB 50/5 footprint included in the FCC June 2020 dataset, we calculate that roughly one million Hoosiers or 15.5% of the total population will not be able to benefit from the EBB. Of these, 86.1% lived in rural Census blocks according to the 2010 census compared to 13.9% in urban blocks. In other words, a disproportionate number of rural residents in Indiana will not benefit from the EBB.
When looking at county totals, however, the picture varies significantly. Interactive Table 2 (you can sort in ascending/descending order and search by county name) shows the percent of population per county and their urban/rural portions that will not benefit from the EBB.
The top three counties based on their percent of population (more than 90%) with no EBB were Parke, Orange, and Vermillion. Note, however, that 100% of the urban portion of Parke and Orange were outside the EBB footprint. Feel free to interact with Table 2 to uncover additional information.
At the end of the day and mostly due to inadequate data, state agencies charged with rolling out the student subsidy program will face difficulties balancing the rules and regulations to avoid duplication of services or benefits. Efforts need to be made, to the extent possible, to validate this data at the local level.
---
But, frankly, it is not entirely clear what this utopia would be. A world in which the crown and ribbon of a beauty queen is handed over to one and all just for participation? Or one in which the concept of beauty would expand so much that it would become meaningless? Perhaps we would approach utopia by rewriting the very definition of the term so that it better reflects our new view: now beauty is already something more than aesthetic pleasure.
Everyone knows that beauty has a financial dimension. We want to be among beautiful people because they are pleasing to the eye – but https://beautypositive.org/ also because they seem by nature to be better than others. They say attractive people are even paid more. It's actually a little more complicated: the recipe for a higher salary is a combination of beauty, intelligence, charm and teamwork. However, whatever one may say, beauty is an integral part of this equation.
Footnotes
The mobile footprint was not included because it is hard to filter out access by speeds. Dataset only includes minimum download and upload speeds that are significantly lower than the 50/5 Mbps threshold for CDMA (9/4 Mbps), GSM (2/0.5 Mbps) and 5G (9/4 Mbps) mobile technologies.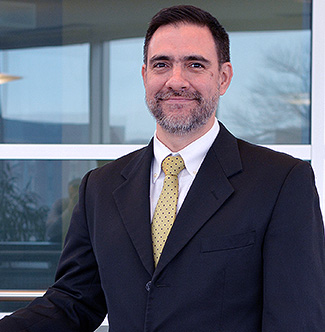 Written by
Roberto Gallardo
Roberto Gallardo is the Vice President for Engagement, Director of the Purdue Center for Regional Development and an Associate Professor in the Agricultural Economics Department.... read more