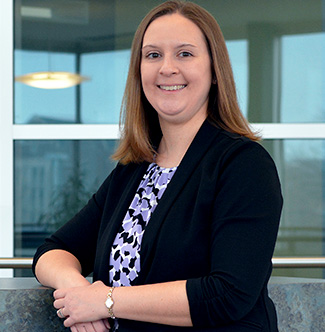 Get to know me
Jessica Wandless is the Communications and Engagement Manager for the Purdue Center for Regional Development (PCRD). She is the primary contact for all communication efforts for the Center. Jessica works to promote PCRD's work through a variety of communication strategies, including developing written materials, creating strategies to enhance awareness of PCRD's offerings to key stakeholders, issuing press releases, and managing the Center's social media presence.
Jessica also assists with the management of the Digital Inclusion Fellows AmeriCorps initiative. This initiative places AmeriCorps fellows in regions throughout Indiana to work on enhancing digital inclusion efforts within their respective region. Jessica also works with the Essential Digital Employability Skills (EDES) and the iFront Door program in coordination with the Brian Lamb School of Communication and Agricultural Sciences Education and Communication within the College of Agriculture.
Jessica holds a B.S. degree in Agricultural and Environmental Communications and Education with a Leadership focus and an M.S. degree in Agricultural Education from the University of Illinois at Urbana-Champaign.
Prior to her work at PCRD, Jessica worked with Purdue Extension as the Military Extension Internship Program Coordinator, where she managed a nationwide internship program funded by the Department of Defense that placed college students on military installations to work in child and youth programs. Jessica also worked for the University of Illinois Extension planning statewide local government educational programs for Illinois local officials.
Authored news
The Southeast Indiana Small Business Development Center is Growing! Let's Meet Rachel, Mike, and Philip!
Co-authors: Jon Myers, Rachel Armstrong, Mike Fulkerson, and Philip Roggow. The Southeast Indiana Small Business Development Center (SEISBDC) serves the 14-county region of Clark, Floyd, Harrison, Scott, Jackson, Jennings, Bartholomew,…
The Hoosier Heartland Small Business Development Center is Growing! Let's meet Sylvia and Tim
Co-authors: Jordan Jicha, Sylvia Smith, and Tim Branyan The Hoosier Heartland Small Business Development Center (HHISBDC) serves the 12-county region of Benton, Carroll, Cass, Clinton, Fountain, Howard, Miami, Montgomery, Tippecanoe,…